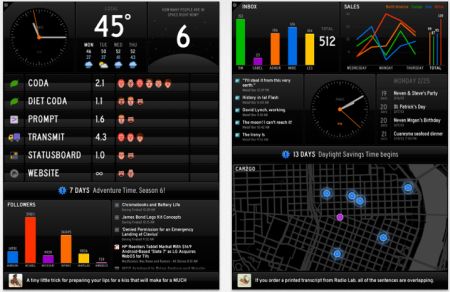 Status Board este o aplicație care ne dă posibilitatea de a vedea într-o singură aplicație toate datele tale cum ar fi: calendar, tweeturi, emailuri, vreme, știri și multe altele. În varianta Pro poți vedea Grafice și Tabele, cu datele tale customizate pe nevoi.
– Six Instant Panels

Clock Analog or digital, anywhere in the world.
Weather Temperature and four-day forecast.
Calendar Pick a calendar and see your appointments at a glance.
Mail Get messages counts, or see the latest Subject lines.
Twitter See the latest Tweets or the volume of tweets.
Feeds The latest headlines from your favorite sites.

– Three Pro Panels
Graph You provide the JSON or CSV data source, we make it beautiful.
Table Toss us some HTML or CSV data and we'll make a nice looking table.
Do-It-Yourself Design your own panels using HTML.

– Incredible Customization
Resize panels. Easily change your layout. Portrait or Landscape. Select data sources to display, configure how they're presented. The power is yours.

– Simple Board Sharing
Easily e-mail a Status Board configuration to colleagues or corporations and get everyone on the exact same page.

– Deluxe HD Out via HDMI or AirPlay (In-App Purchase Required!)
Basic AirPlay works OK, but HD Out lets you see your data on a big, beautiful screen, formatted specifically for HDTV's. No letterboxing!