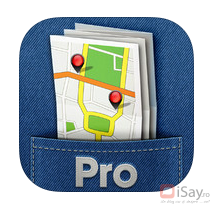 City Maps 2Go Pro este disponibilă gratuit în App Store, iar cu ajutorul ei putem avea access la hărți în mod offline fără să avem nevoie de conexiune la internet. Astfel avem o alternativă la Google Maps, Apple Maps, iGo Europe sau mai nou la Waze.
Sunt foarte mulți utilizatori care nu au o conexiune de date, iar această aplicație este perfectă pentru ei și nu numai. O puteți încerca iar dacă nu vă place o puteți șterge, însă aveți versiunea Pro pe viață. Eu folosesc iGo și Waze, dar o voi instala ca să îmi rămână în Purchased, nu se știe niciodată.
PRO UNLIMITED VERSION
This Pro version gives you life-long, unlimited access to maps and travel content covering all available destinations worldwide. Alternatively, a free version, which is limited to five destinations of your choice, is available on the App Store as well.

WORLDWIDE COVERAGE
Thousands of destinations available worldwide, covering virtually the entire globe. Should you need a destination that's missing, we'll create it for you immediately upon request. Just email us at [email protected]

DETAILED MAPS
Never get lost. See your location on the map, even without an internet connection. Find streets, addresses and POIs – and get pointed in the walking direction of places you want to see.

IN-DEPTH TRAVEL CONTENT
Have all the information in your pocket. For each destination, access comprehensive and up-to-date information covering thousands of places, attractions, and points of interest. Aggregated, packaged and formatted from the best data sources on the web for easy use on your smartphone and tablet.

SEARCH AND DISCOVER
Find the best restaurants, shops, attractions, hotels, bars, etc. Search by name, browse by category or discover nearby places using your device's GPS – even without an internet connection.

GET TIPS AND RECOMMENDATIONS
Find tips and recommendations from locals and fellow travellers. Browse for the most popular attractions, restaurants, shops, etc.

SHARE YOUR FAVORITE PLACES
Create your own reviews and ratings of your favourite places. Share tips and recommendations with friends and other travellers.

PLAN TRIPS AND CUSTOMISE MAPS
Create lists of places you want to visit. Pin existing places, like your hotel, to the map. Add your own pins to the map. Add notes to places. Find and book hotels from within CityMaps2Go.

BACKUP AND SYNC
Transfer your personal pins, notes, etc., between devices or sync them to the cloud.

OFFLINE ACCESS
Maps and guide content are stored on your device so they can be accessed at any time even without an internet connection. All features, such as address searches, creating reviews and notes, and your GPS location, also work offline. That way CityMaps2Go is fast and reliable no matter if you have a Wi-Fi-only device or want to save data or roaming costs while abroad (an internet connection is of course required for initial downloading of data or booking hotels).